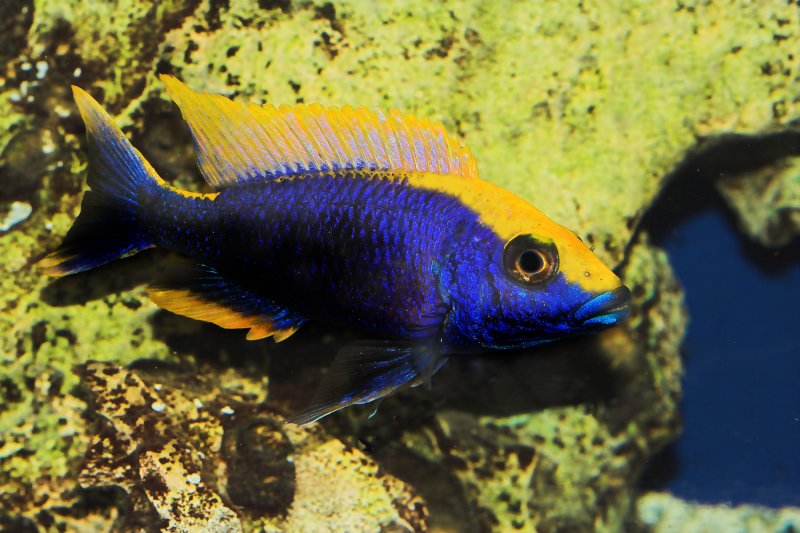 The Otopharynx lithobates is an amazingly colored Malawi Haplochromines. Tank-Bred Lithobates can grow up to 5.5", and Wild Caughts should top out at about 4.5".
These fish go through one of the most amazing color morphing processes you will ever see. They will start with a dull tan body. They will slowly get their black spots as well as their yellow or red "blaze"(explain more later). After that they will start to get their awesome blue starting around their lips and will slowly go through their body all the way to the tail. The Lithobates lack egg-spots which are very common in African Cichlids.
These fish are native to Lake Malawi and can be found in multiple spots in the lake. They can be found around the Nankoma Peninsula, Domwe Island, Mumbo Island, Thumbi West, and Zimbawe Rock. All these location provide a different colored fish. They will all have a blue body, but some with have a orangeish dorsal fin (red blaze) and others will have a yellow dorsal fin (yellow blaze).
The Zimawe Rock (pictured above) is commonly referred to as the Yellow Blaze Lithobates and is the most popular in the aquarist hobby.
The Lithobates is a predator which feeds mostly on crustaceans and insects in the wild. In captivity however they will accept most flake foods as well as pellets.
These fish as with most African Cichlids are mouthbrooders. The males color will intesify when courting the female. Broods will consist of 15-40 fry and will be about 4mm when released.
Minimum Tank Size: A tank measuring 48" (122 cm) 55 gallons
Care Level: Moderate
Temperament: Peaceful (Semi-Agressive towards own kind)
Water Conditions: 78-82° F, pH 7.8-8.6, Hard water
Max. Size: 5.5"
Color Form: Male- Yellow or Orangeish Yellow & Blue
Female- Brown, Gray
Differences in Gender: Dimorphic
Diet: Carnivore
Breeding: Mouthbrooder